Event: Privacy Analytics' Executive Round Table on the Future of Clinical Trials Data Sharing, September 18, 2018, London, England
This invitation-only event was adjacent to the London DIA Global Clinical Trials Transparency Conference. Led by Privacy Analytics CEO Dr. Khaled El Emam, the roundtable featured leaders in health data sharing and related legal frameworks. Representatives of multinational pharmaceutical companies were also in attendance.
Firstly, the General Data Protection Regulation framework (GDPR) and its continued impact drove much of the conversation.
Secondly, the need to share Clinical Trials Data more effectively was examined in depth.
Thirdly, new solutions, including a cloud-based approach recently developed by Privacy Analytics, were explored.
(Above,  infographic created in real time during the Roundtable discussion.)
Featured speakers:
Ruth Boardman, Partner, Bird & Bird, London UK.   Bird & Bird is a global law firm with 1,300 advisers worldwide serving clients based 118 countries.
Dr. Rebecca Li, Executive Director, Vivli, Cambridge, Massachusetts USA.  Vivli is a non-profit entity offering a global, neutral platform for clinical trials data. Vivli includes 7000 trials, involving 1.4 million participants in 100 countries.
Dr. Khaled El Emam, chair and speaker, CEO, Privacy Analytics, Ottawa, Canada. Privacy Analytics is a pioneer in data de-identification. PA's clients include Fortune 50 health companies. Because of PA's decade of experience with healthcare data, PA was selected to provide anonymization services to Vivli members.
Topics included:
Interpretation of GDPR for internal and external sharing, and use of clinical trial data
Updates on European Medicines Agency (EMA) Policy 70
Current process challenges faced by pharma organizations
Future facing: expectations of less data redaction, because of its impact on data utility
Answering the need for more transparency at lower cost: Privacy Analytics' new cloud-based secure sandbox for researchers
Ruth Boardman's Presentation
The presentation was titled "Interpreting GDPR for external and internal sharing and secondary use of clinical trial data". Among these questions raised during this session: "If an investigator requests to be removed from future feasibility requests, how would that be managed within the sponsor/CRO organization?"  Ruth Boardman also presented the concept of 'Three Doors'.  The concept addresses data consent in three different contexts, namely, research, data, and the GDPR. Due to the differences between research consent, data consent and GDPR consent, guidelines for usage may change.
Dr. Rebecca Li's Presentation
Dr. Li described the Vivli platform, developed in co-operation with Dr. El Emam utilizing Privacy Analytics anonymization methodology. Vivli offers clinical trials researchers, academic institutions, and sponsors greater access and utility. This includes cross-study analysis, combined with strong privacy.
Dr. El Emam's presentation included:
Moreover, Dr. El Emam provided expert perspective on where data sharing is headed in the next five years. This included a discussion on Blockchain and its potential value for research.
In addition, Dr. El Emam presented the roadmap for the Privacy Analytics Workbench platform.
Takeaways from the Roundtable:
The delegates discussed their experience working with researchers, and the best ways to engage with them. Most noteworthy, the discussion around GDPR emphasized its continued impact on Clinical Trials Data Sharing. As a result of GDPR and other regulations, companies are watching and waiting to see how it will affect their health data reuse and sharing strategy.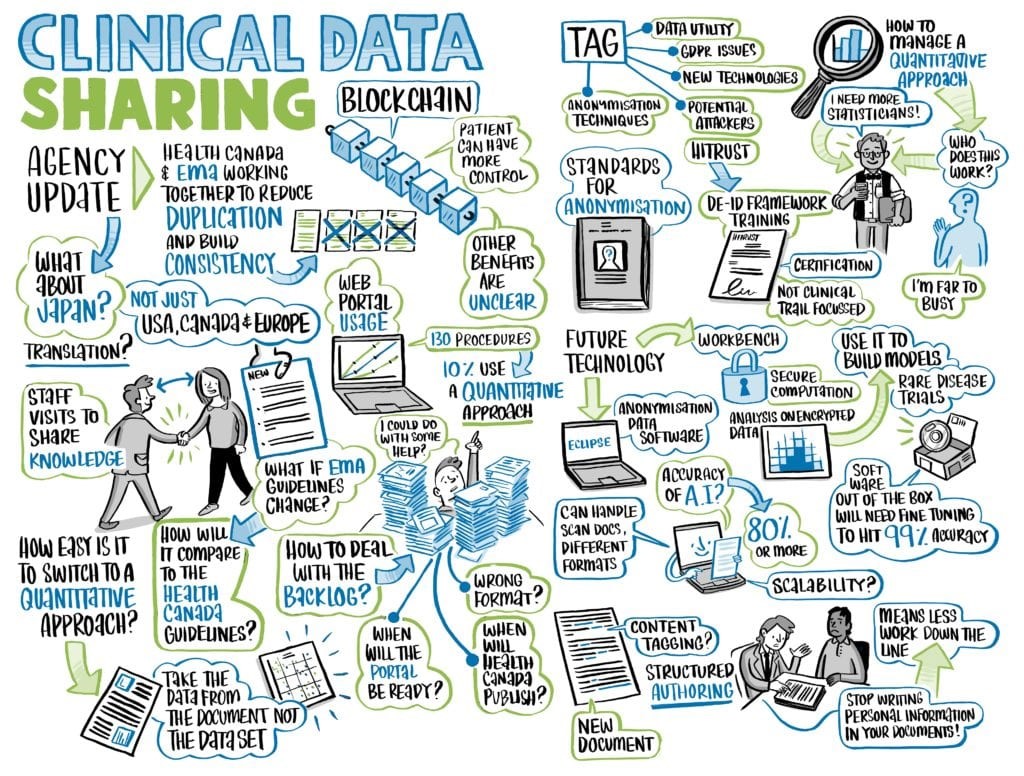 (Above, infographic created in real time illustrating the Roundtable's key takeaways)
Bottom line: three big things
Three key questions surround the future of clinical trials data sharing:
What will it take achieve a balance between privacy and transparency?
How can datasets be aggregated to derive and share insights from different trials to drive research and innovation?
Why will global regulatory policy continue to have a major impact?
For more information, contact: marketing@privacy-analytics.com