An article by Sarah Lyons, General Manager, Privacy Analytics
Health Canada has introduced new regulatory guidance for anonymizing clinical study reports.
As background, Bill C-17 Protecting Canadians from Unsafe Drugs Act (Vanessa's Law) was initiated to propose the first amendment to the Food and Drugs Act (FDA) in 50 years. In 2014, Vanessa's Law introduced new transparency powers to the Health Minister.  Within these new transparency powers, Health Canada's regulations provide public access to specific clinical information submitted to them for safety and efficacy review and approval. Health Canada developed a process for anonymizing personal information prior to release. Drug manufacturers are now asked to anonymize personal information, and the anonymization method will be assessed by Health Canada to ensure compliance with the Privacy Act and the Canadian Charter of Rights and Freedoms.
Health Canada's guidance asks manufacturers to anonymize the clinical information using a risk-based anonymization process. Health Canada has indicated they will reject the transformation of any data that is not accompanied by adequate justification. The new approach brings Health Canada in step with other regulators such as the European Medicines Agency (EMA).
Unlike EMA Policy 0070, Health Canada applies to submissions on request – not only proactive submissions for drug applications.  As this guidance comes into effect, companies are now responding to tight timelines, particularly for access to information requests.
Highlights in the early days of the new guidance
1. Timelines have been extended, but turn-around pressure remains high
The publication of clinical information under the Public Release of Clinical Information (PRCI) initiative proceeds through five distinct phases – initiation, submission, review, finalization, and publication.  Health Canada aims to upload the final de-identified clinical information package onto its clinical information portal within 120 days from a positive regulatory decision.  This timeline was extended by Health Canada from 60 days to 120 days following industry feedback on its draft guidelines.
Prior to PRCI initiation, a sponsor may elect to attend a one-on-one process initiation meeting (PIM) with Health Canada to confirm the clinical documents in scope and ask any clarifying questions.  A PIM may be requested within 120 calendar days prior to the final regulatory decision, and up to 20 calendar days following the final regulatory decision.  The high-level process and standard timelines triggered by a positive decision are below, and manufacturers may start to prepare clinical information for publication prior to Health Canada's (HC) positive decision.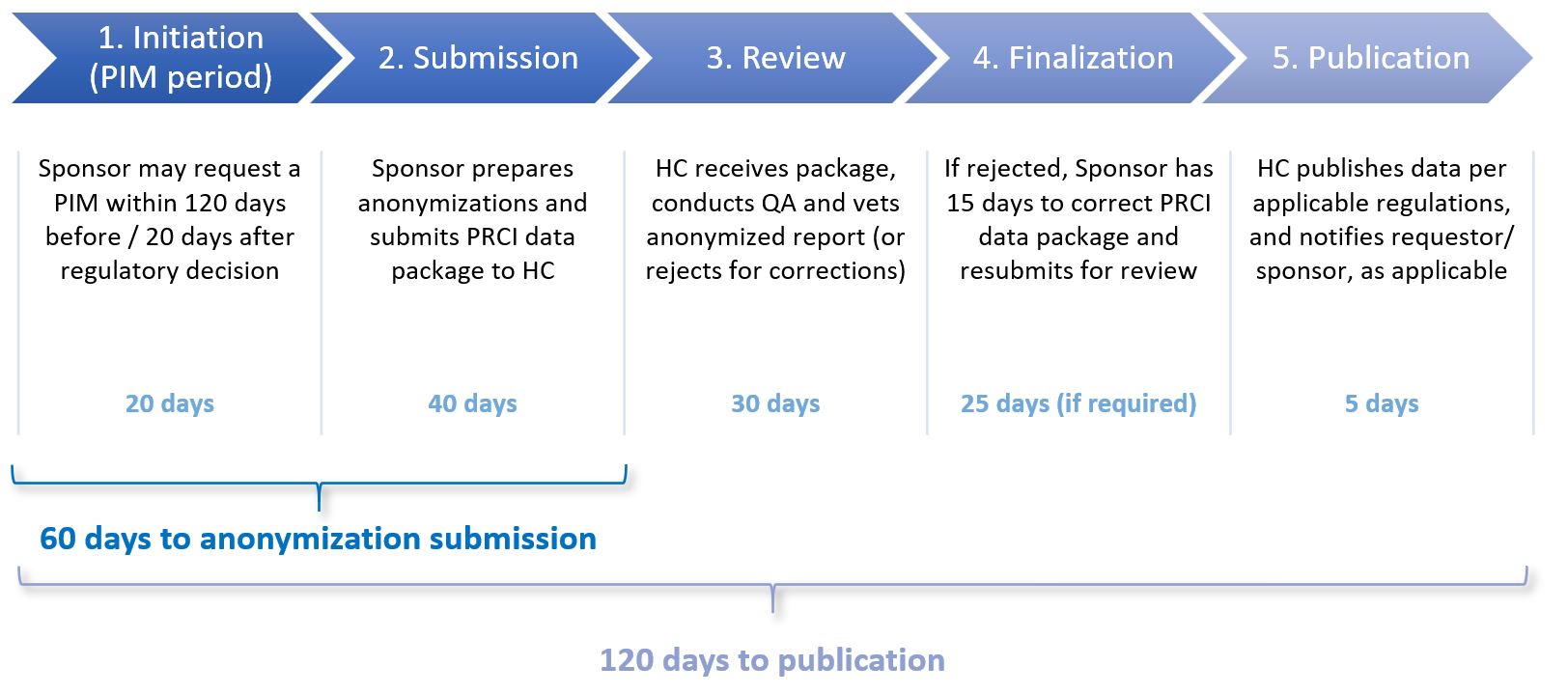 Negative regulatory decisions are explicitly required to be anonymized and released, which aligns with Policy 0070.  The timelines differ for negative decisions, allowing 30 days for appeal and an additional 70-140 days if the regulatory decision is reconsidered by Health Canada.
Even with the extension, a 60-day turn-around for submitting the PRCI data package to HC from process initiation can be tight for large studies with many CSRs.  Accordingly, beginning anonymization in advance of regulatory decision is important, particularly for large studies.
During the early period of adoption, Health Canada may accept qualitative risk-based approaches, and in certain cases, redaction.  However, the direction is toward quantitative risk-based anonymization, and expectations will likely rise as studies begin to be anonymized and published.  Health Canada's guidance strongly suggests that personal information be anonymized using a quantitative, three-stage process: 1) identify/classify variables, 2) measure re-identification risk, and 3) anonymize the data.
The increased demand and potential for fast turn-around will pressure clinical trial transparency programs to scale with increased automation.  Scale and efficiency in applying a quantitative risk-based methodology will be key to addressing requirements across regulators and achieving reliable, timely turn-around that scales to requests from Health Canada.
2. Comparing Health Canada guidelines to EMA Policy 0070
There is strong alignment between Health Canada's guidance and the EMA's Policy 0070.  Both heavily favour a quantitative risk-based anonymization approach. Submissions to the EMA under Policy 0070 can be subsequently submitted to Health Canada.  Below is an overview of comparisons between the two regulations.
As industry responds to the new guidance, Health Canada will begin reviewing the PRCI packages, adding watermarks and publishing on the portal.  As a further phase to the transparency efforts in Canada, Health Canada plans to develop a policy on individual patient-level datasets.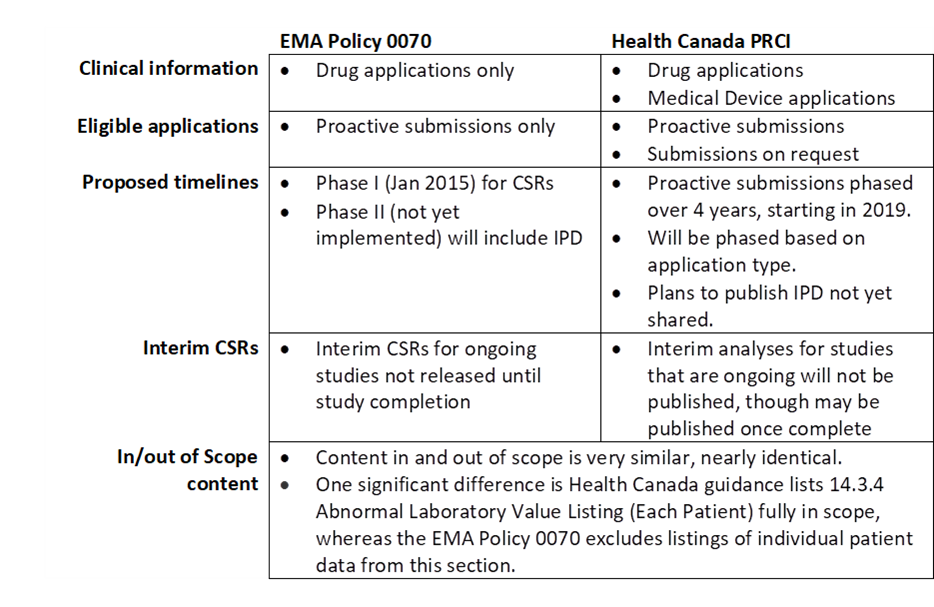 3. What's next?
As industry responds to the new pressure of submissions upon request by Health Canada, alongside proactive submissions for EMA and Health Canada and other public data sharing efforts by the Pharmaceutical and Medical Devices Agency in Japan, the need for scale, efficiency and agility is increasing.  From a commercial standpoint, clinical trial data can have high value for real-world evidence (RWE), making anonymization an increasingly important capability beyond compliance.  Industry leaders are shifting from responding to regulatory requirements to proactively anonymizing clinical studies and data at scale, with increased value, efficiency and impact of transparency programs.
The increase time pressures from Health Canada alongside commercial drivers for RWE platforms are important considerations for transparency leaders, with a proactive approach that holistically satisfies commercial and regulatory drivers becoming increasingly important.